Morocco's otherwordly deserts never fail to captivate travelers. Far from the bustling city, experience Erg Chebbi's wind-blown sands and undisturbed beauty in our Royal Camp. Located far from the tourist traps, our Royal Camp has two luxury tents atop the desert dunes.
Stay in this unique accommodation overlooking the rolling sandy hills and, by night, witness the night sky awash with stars. This restorative sensory experience is both luxurious and tranquil. As you'll see, our camps are fully equipped with plentiful amenities — ideal for honeymooning!
At Desert Luxury Camps, our unparalleled camps provide travelers with a moment of calm away from the pressures of daily life. From our Royal Camp in Erg Chebbi to our dome tents in Erg Chigaga, you'll never forget your time seeing ancient desert sands in luxury.
If you're thinking of visiting Morocco and would like to enjoy one of our luxury camps, please get in touch. Our local team is here to make your luxury vacation remarkable and stress-free.
Stay Atop the Desert Dunes, Overlooking Erg Chebbi
Our Royal Camp is perched atop the desert dunes, overlooking the vast expanse of Erg Chebbi. As you wake each morning, open your luxury tent onto remarkable views of the Erg's orange and red hues that stretch as far as the eye can see.
While most desert camps are built at the flat space at the bottom of the desert hills, our Royal Camp is uniquely positioned atop a dune offering seclusion and wonderful views for your desert experience. Scroll on to read about the Royal Camp's high-quality amenities.  
Luxuriate in Our Royal Camp Grand Ensuite Tents
The tents in our Royal Camp take glamping to the next level. Measuring 78 sq m in size, these large tents offer separate sleeping and living quarters, as well as an ensuite bathroom.
On your desert retreat, you can enjoy unwinding in the lounge area of your tent, overlooking the view with a good book. These spacious interiors are wonderful to share with a special partner, providing the perfect place to relax together. 
Explore Your Ensuite
The bathrooms in the Royal Camp are private and perfect for couples to share. Each ensuite has spacious wooden divisions and offers a separate flushing toilet, a walk-in shower, 2 sinks and bathtub. That's right, a bathtub in the desert!
Luxuriate with Moroccan oils in the bath by night, then enjoy the star-sprinkled skies before resting in the Royal Camp's incredibly soft king-size beds.
Relax on Beautiful Moroccan Furniture
Our Royal Camps are adorned with beautiful locally made furniture. From the solid wood king-size bed, carved dressing table, night tables, and Moroccan salon, the tents demonstrate the very best of Moroccan craftsmanship.
The floors are adorned with intricate handmade Moroccan carpets so that while you are glamping in the desert you will feel as comfortable as you are at home — if not more so!
In addition to the traditional Moroccan decor, the Royal Camp also offers travelers small fridges to keep fresh fruit and beverages cool. In the winter, we increase your coziness with electric blankets and heating to make slipping into your bed on cold Saharan nights a welcome retreat.
Our Royal Camp is specifically designed to combine classic Moroccan craftsmanship with modern appeal, ensuring your luxury camping will be a wonderful experience from start to finish.
Enjoy Moroccan Feasts at Our Royal Camp
The food at our Royal Camp is a culinary event, from breakfast at sunrise (or whenever you wake up!) to dinner beneath the stars. Each meal is tailored to your dietary requirements and prepared by our on-site chef, who has trained in one of Marrakech's culinary schools.
Our breakfasts include Moroccan pancakes, jams, and honey, as well as eggs, freshly baked bread, and — of course — tea and coffee. Our light lunches are picnic style, so you can snack amongst the dunes before a three-course meal in the evening of tajin, lamb mechoui, or seven-vegetable couscous.
Our seasonal menu uses local produce and ingredients to offer the best Moroccan flavors for you to enjoy. That said, if you'd prefer some more western-style dishes, we can offer this also.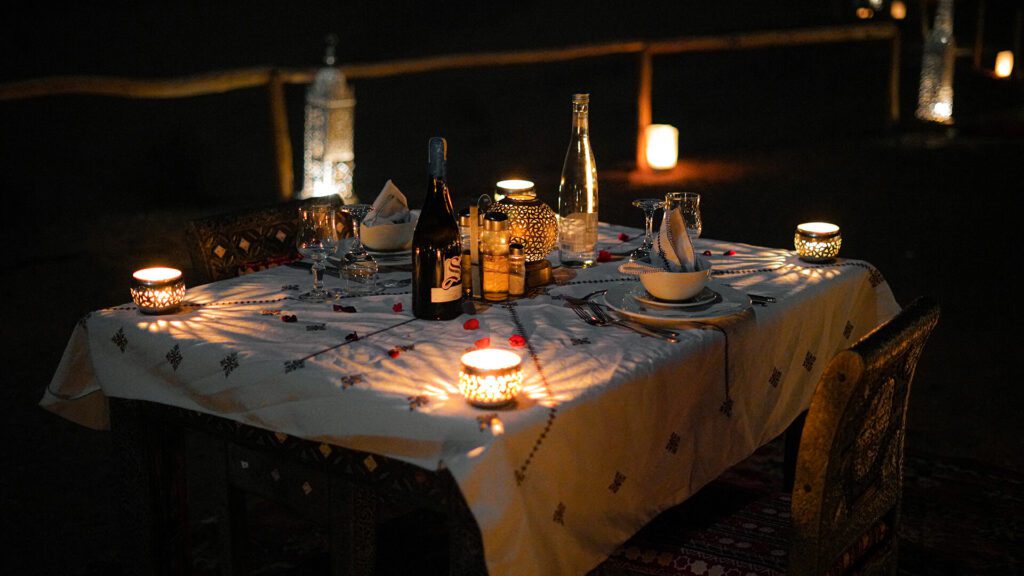 If you would like to explore the other luxury accommodations at the Erg Chebbi dunes, we have plenty to choose from, including our Dome Camp and the nomadic Superior Camp. Contact us for further information and, together, we'll start planning your luxury desert escape.