MERZOUGA WITH ERG CHEBBI OR ERG CHIGAGA?
So, you have decided to go to the desert and that's great! You made the right and excellent choice while vacationing in Morocco. All travelers , no matter if frequent or just occasional , should take a trip to Sahara as it is a once a lifetime experience!
Morocco has several Sahara Desert dunes regions. You can choose from Erg Lihoudi dunes in Mhamid , the Tinfou dunes in Zagora , Erg Chebbi dunes in Merzouga and Erg Chegaga desert dunes by Mhamid. The Tinfou dunes and ErgLihoudi are not as popular and are not as vast , beautiful so we have not included them below but rather concentrated on the two main domain desert dunes of Morocco – Erg Chigaga and Erg Chebbi. You probably read more about Merzouga/ Erg Chebbi as it is more advertise in photos and guidebooks and many more Moroccan travel tours offer it in their programs.
Erg Chigaga is not mentioned as much but that doesn't mean that it lacks the beauty of Saharan desert dunes . Both of these desert regions are undeniably spectacular!
Here are listed some main differences that may help you in your dauting decision which desert region is better fit for you? Remember we have luxury camps in both desert expanse – in Merzouga desert and in Erg Chigaga too.
ACCESSIBILITY
Winner: Merzouga and Erg Chebbi – if you are looking for easy to reach Saharan desert peaks.
The desert dunes of Erg Chebbi are easy to get to even with a small rented car and no 4x4WD off road vehicle is required. There is also a decent bus service from Marrakech and from Fes with limited schedule. Perhaps, that is one of the reasons why these desert dunes are so popular and are frequently included on so many desert tours packages of Morocco as it pleasantly joins the travel between the two popular cities of Fes and Marrakech.
The nearest airport to Erg Chebbi desert dunes is in Errachidia – just about 2 hours away and Royal Air Maroc offers 5 weekly direct flights from Casablanca.
Alternatively, you can decide on private helicopter transfers to Merzouga but there are really expensive and better choice is to hire private jet to the airport in Errachidia. But then again, the best and most recommend means on getting to Merzouga is on a private desert tour with local driver or combination of the flying one way and private drive the other way. The landscape of Southern Morocco is beautiful and varied. You will not regret choosing to drive with your personal private driver or even driving yourself. Just a tip takes your time and don't rush. We are always ready to help with the planning so please send us an email with details and we will tailor the perfect trip for you.
Erg Chigaga is much more difficult to reach! Bus from Marrakech could bring you only as far as M'hamid. Then you must have an off road vehicle to go further as the road here vanishes into nothing. If you dare to venture here alone make sure you have a downright good working GPS. It is so easy to get lost here and can be very dangerous. Our advice for you is to surely book desert tour to Erg Chigaga. It will ease the stress with travel, and you can instead enjoy the desert landscape. The other alternative is to travel with rented car and have one of our guides meeting you in Mhamid or Zagora. If you don't have off road vehicle then we can arrange the transfer for you too! It takes under 2 hours from Mhamid to the desert peaks of Erg Chigaga. Additionally, the private helicopter transfers from Marrakech to Erg Chigaga are not as pricey as for Merzouga especially if you are little bigger group and can share the cost.
The other alternative is using the Royal Air Maroc public flights. The closest airport to Erg Chegaga is in Zagora – about 3 to 4 hours away with 3 weekly direct flights from Casablanca.
POPULARITY / CROWDINESS
Winner: Merzouga and Erg Chebbi
Well, we are not sure, if one should be proud, to be labeled as winner but Merzouga desert can be very crowded at times. I suppose due to straightforward accessibility there are many people visiting this desert region. Note, our camp , is in a very secluded area which makes it so special and differentiates itself from the other desert camps.
Erg Chigaga get many less visitors each year in comparison to Erg Chebbi. It is not the first and most popular choice for many travelers heading to the Moroccan Sahara Desert. You will find here many less people around. That is most likely one of the biggest draws for tourists going to Erg Chigaga.
BEAUTY
Winner: Merzouga and Erg Chebbi
I can just imagine many people arguing and disagreeing with me here! Beauty is in the eyes of the beholder and will always be a personal choice. I have picked the desert dunes of Erg Chebbi because the dunes are taller and in such a striking colors of orange hues. These dunes rise out of nowhere and you spot them while driving onto Hassilbied from the pave road. It is like a distance mountain of sands raising in the expanse on the horizon. It is impressive and full wow moment.
Erg Chigaga is beautiful too, don't be fooled. It's just a different journey. These dunes will appear suddenly front of you after the strenuous several hours off road driving adventure middle of nowhere. They'll look beautiful and are overpowering as they circle around you, but they are not as tall and are more darker shades of desert colors.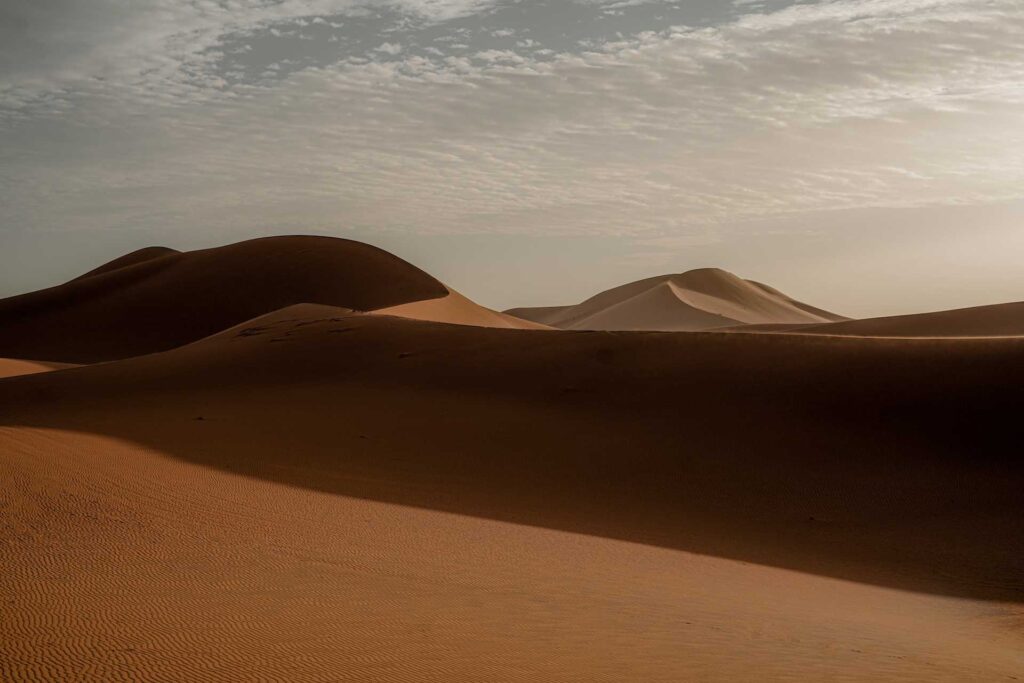 SIZE
Winner: Erg Chigaga
Yes, Erg Chigaga desert dunes spread over much larger area over 40 km in size and one can get lost easily here. It is the full array , the full sea / ocean of never ending desert dunes no matter where you look. There are no village lights, not roosters waking you up in the morning. It's just infinite desert dunes as far as one eyes can see.
Merzouga dunes are on much smaller scale. The Erg Chebbi dunes spread for only about 28 km with 6 km wide on average. At the edge of the desert dunes, you'll find so many hotels and lots of infrastructure. There is more noise and light pollution. I like to emphases again that we are located at nearby dunes of Erg Zniqui in a completely secluded and quiet area sheltered away from the noise and lights – reason why the camp is so unique and special there!
SAFETY
Winner: Merzouga/ Erg Chebbi
We picked Merzouga desert because of an easy accessibility to doctors and fast medical help and not just that. Here in case of a massive sandstorm you can easily find cover in the many nearby hotels that stretch around the desert dunes . Or in the worst-case scenario if you need an urgent medical help then the nearest doctor or even hospital aren't so far away. Therefore, if you are traveling with small children or elderly Merzouga desert is utterly a best pick for you.
Erg Chigaga is a vast wilderness with nothing in nearby proximity. Here in case of any bad weather you have to almost certainly just stick it out. Please important to note that doctor's help is several hours away.
SENSE OF ADVENTURE
Winner: Erg Chigaga
Yes! Because of the pure infinite wilderness , open space , difficulty to get to – Erg Chigaga is the winner and there is no doubt for anyone seeking the thrill of desert adventure.
Erg Chebbi will give you the desert quest too but because of the crowds it may lack some of the excitement , solitude one would seek in the desert escapade. Please keep in mind that Desert Luxury Camp in Merzouga desert is in a remote and isolated location where you get away from it all!
FEELING OF LUXURY
Winner Merzouga/ Erg Chebbi
If you are looking for a sense of high luxury, then Merzouga/ Erg Chebbi will be your better choice. It goes hand in hand with the proximity of materials , food and availability of water. In Desert Luxury Camp in Merzouga desert you find adequate heating in winter months and cooling in summer inside your glamping tents. There is a solar power and additionally generator that produces enough energy to run the machines and deliver electricity right into your tents. Besides there is tented swimming pool in our Main camp that refreshes you in the hot summer months. Additionally , the lavishness of the Royal camp is indeed suited for sultans. Royal camp in Desert Luxury Camp is the largest and most comfortable tent you can find in the entire Moroccan desert experience.
Erg Chigaga tents are beautifully equipped as well with Moroccan carpeting, ensuite bathrooms with running water and flush toilets. But the winter heating may not be as satisfactory here with only gas bottles that must be turn off at night for safety matters and in summer months there is only fan cooler which doesn't do much difference in the desert heat. Though remember there is proper electricity in tents where one can charge all the equipment and fully functional bathroom – there is not roughing it in Erg Chigaga either! I like to point that we are the only camp at Erg Chigaga at this time, that has flushing toilets and running water in your shower.
SEASONABILITY
No winner here really. But note that Desert Luxury Camp in Merzouga is open year-round including summer months. We always advice for 2 night's stay but in summer months 1 night might be a better option.
Erg Chigaga camp closes down for July and August. The heat can be almost unbearable there and as mentioned previously , there is no satisfactory cooling to give some relieve from the heat during the hot summer months. There is no escaping the heat , nowhere to hide against it.
If you are hesitant travelling to Moroccan Sahara Desert in summer, don't be. Please just choose the Merzouga desert camp. It is still worth it!
ACTIVITIES
Winner: Merzouga/ Erg Chebbi
I suppose due to the proximity of the towns there is much more to do there. You can do the obvious and most popular desert activities like camel trekking, sand boarding, 4WD bashing the dunes, quads and buggies rides, sunrise/sunset watching and stars gazing. But here you can also go on horseback riding in the desert, fat bike riding. Or you can visit the seasonal lake of Daye Sergi, you can head to Rissani to market souk, visiting Nomads and the romantic desert villages.
Erg Chigaga is more limited to the typical desert activities. You can also quad bike, but it is much more expensive, and buggies are really hard to get. Though the fossils search is better here, and you may view the fata morgana lake of Iriqui which you don't get in Erg Chebbi and which is pretty amazing to experience.
INTERNET ACCESS
Winner: Merzouga/ Erg Chebbi
In todays' world it's quite important to stay connected. If that's imperative to you then go to Merzouga desert. There is limited Internet service, and the phone connections is fairly good no matter where you are. Some camps here offer even WIFI. We are planning in near future to have a hot Internet spot in camp too. We recommend Maroc Telecom for the best service.
Getting Internet in Erg Chigaga is a challenge. You can connect only by climbing some of the high desert dunes. Even the phone service is not that great either. Maroc Telecom will be also your best phone provider if you planning to go to Erg Chegaga desert.
SUSTAINABILITY
Sustainability and ecological aspect will differ from camp to camp rather than the desert landscape itself. It is up to the camp how ecological they like to be. But I like to stress from our personal experience that it is not an easy task and we absolutely love any ideas from travelers , experts how the desert camp can be more environmentally friendly. We already implementing many ways but the toughest is how to handle the non-bio waste. In Merzouga its easier as the garbage gets collected from there but in Erg Chegaga everything is so far away. Honestly the waste collection in the region of the entire Draa Valley is practically nonexistent.
I like to underline that the sustainability and responsibility comes from each guest as well. If you are staying 2 and more nights, please keep the same towels instead of getting new ones. Be mindful of the usage of water. Thank you.
I like to add once more that no matter which of the desert camping options you will end up choosing, you'll love your Moroccan desert adventure and the beauty , rich culture of Southern Morocco. It's a wonderful journey with contrasting natural landscapes, sumptuous Kasbahs, and friendlies people of Morocco. It is ten thousand times better and more worthwhile the long ride then staying in the rocky desert of Agafay by the outskirts of Marrakech.