Outside of Morocco's main cities, the wilderness of the Sahara Desert awaits intrepid travelers. While there are several ways to explore this otherworldly landscape, we'll be taking a look at the best way to see the Sahara Desert.
Desert Luxury Camp was founded by two friends with a desire to offer travelers the true beauty of the desert. Seeking the awe-inspiring solitude beyond the busy hotels led us to create our luxury camps at Erg Chebbi and Erg Chigaga.
Since those early days, our piece of paradise has grown to welcome global visitors to stay in the desert in a high-class environment. Our two camps offer a range of amenities for all visitors, with delicious culinary delights and music from our local culture as the backdrop to your stay.
Our friendly, professional staff at Desert Luxury Camp are here to bring the Sahara Desert to you with authenticity through our high-quality camps. For further information, please contact our team who will be happy to assist you.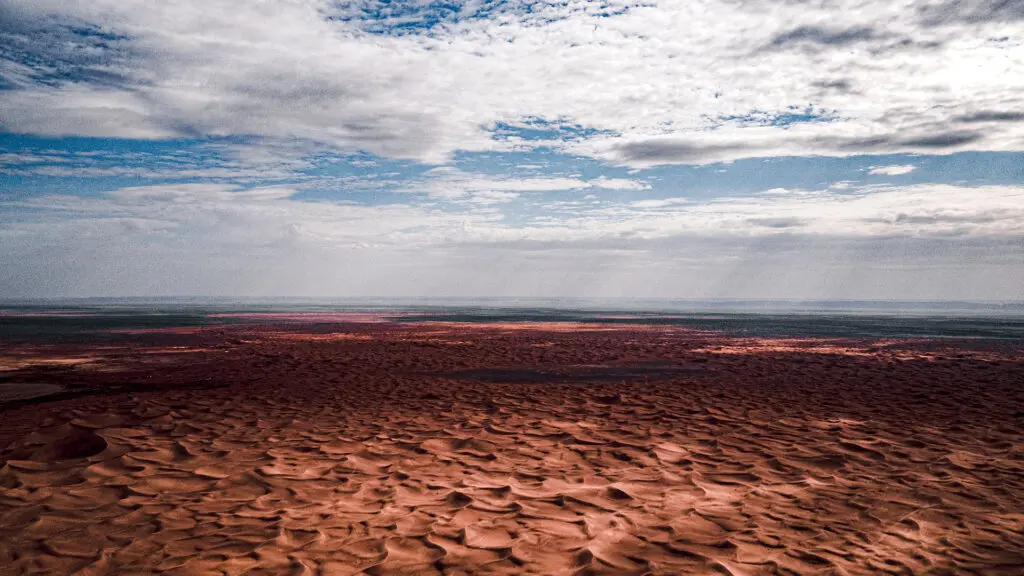 Stay in the Sahara Desert at Erg Chebbi, Morocco
One of the best ways to see the Sahara Desert is from our luxury camp in the Erg Chebbi dunes. Located southeast of Morocco, the nearest town to our camp is Merzouga and many locals call this area the Merzouga Desert.
In addition to the multiple activities that you can experience, including camel riding and dune surfing, our camp offers several opulent accommodation options, all of which include ensuite bathrooms, air-con, electricity, and seasonal fruit.
If you are looking to meet other travelers, our Erg Chebbi main camp is a wonderful way to make memories over the campfire or at dinner. By night, the camp comes alive with authentic music and aromatic fragrances as you watch the desert skies light up with stars by candlelight.
Stay in the Sahara Desert at Erg Chigaga, Morocco
Located in the Zagora Province, our private camps are nestled in about 1 1/2 to 2 hours off road driving the small village of M'Hamid. Our small oasis is situated in a canyon, allowing visitors both seclusion and unparalleled views of the desert. This is an ideal location for travelers looking to experience the solitude of the desert.
Here, our main camp is smaller, with eight tents compared to Erg Chebbi's 20 but all of the same high-quality amenities. If you would like to enjoy one of the best ways to see the Sahara Desert, we recommend staying in our Dome Tent.
With an ensuite bathroom and separate resting area, the 38 sqm dome has wooden floors and a terrace. The shape, as the name suggests, is dome-like and offers visitors spellbinding views of the night sky and the sunrise. Both of which can be enjoyed by candlelight over a meal.
See the Sahara Desert from Marrakech, Morocco
The traveling distance to Sahara from Marrakech is about 8 hours to Erg Chigaga or 9 to10 hours to Merzouga so we recommend you have at least 3 days to make the desert trip worthwhile. If you would prefer to visit the desert for the day only, Desert Luxury Camps can accommodate this. Each of our unique adventure packages includes custom transportation options and can be tailored to collect you from anywhere in Morocco.
Reserving a package tour from any city in Morocco has never been easier. Sit back, relax, and enjoy the journey, knowing that our careful planning and selection of hotels will make your vacation as calming as the desert breeze.
Marrakech is one of the most popular vacation destinations in Morocco, with many visitors choosing to travel from this city to the desert. This journey can be a long one, with the average time being just under nine hours but, depending on your preference, we will make it as comfortable as possible.
The choice of how to explore the desert is yours, which path will you take? If you haven't decided which erg is right for you, visit our Which Sahara Desert Dunes to Go to In Morocco for guidance on picking the perfect vacation spot.
If you are considering visiting our mystical part of the world, please get in touch with us. We're happy to answer any of your questions and provide you with all the information you need to enjoy your visit to the Sahara Desert in Morocco.